Say hello to

…and so long to added sugar!

Our no sugar added Joy Bites bars are made with Fairtrade cocoa and stevia extract, and crafted with these and other carefully selected ingredients. We play a small part in the worldwide focus on sustainability by wrapping all of this in 100% recyclable materials.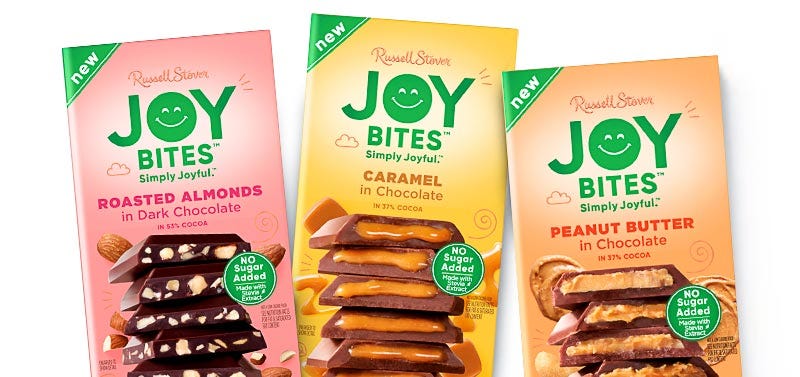 Joy Bites say NO to:
Added Sugar
Added Colors
Artificial Sweeteners
Artificial Preservatives

Yes to joyful flavor,
no to added sugar!
Explore our Collection of no sugar added chocolate bars available for delicious snacking. It's a good day to be joyful.
Inspiring Women to Inspire Girls
We recognize that not all young women have the same resources or opportunities to build the confidence to realize their full potential. That is why Joy Bites has partnered with Step Up, an incredible organization that inspires women to inspire young girls through mentorship and support. We believe that everyone deserves joy, and our partnership with Step Up is just one way that we hope to spread joy to others.
Don't Take Our Word For It!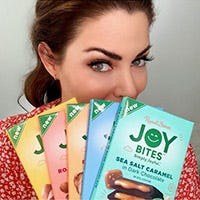 Bobbie
"For me, Joy Bites represent taking some time for myself, slowing down and enjoying a special treat that helps boost my mood without the added sugar. I hope you'll take the time to reward yourself as well."

—Bobbie Thomas, author of the best-selling book The Power of Style and Style Editor for NBC's The TODAY Show
Daphne
"Prioritizing little moments of calm and delicious fun in my days is so important. I celebrate the balance of happy and healthy… so when I tasted Joy Bites from Russell Stover with no added sugar – it was a very exciting day! I can't wait for you to try them and work a little extra bite of joy into your day!"

—Daphne Oz, Emmy-Winning TV Host & New York Times Bestselling Author